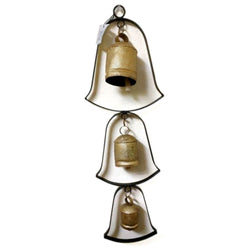 IOTC
Wind Chimes, 3 Bells In Iron Frame
Bringing the beauty and soothing tones to your outdoor retreat is crafted in India from solid iron. Featuring 3 bells with a shimmering, goldtone finish. This artistic yet relaxing chime can be easily hung from any tree, shepherd's hook, porch or deck. Every time the breeze blows the relaxing, "Zen" sound that escapes these artistic garden bells will send peaceful energy around your yard or patio.
Rustic brass/bronze finish shimmers like burnished gold in the sun.
Perfect as a garden ornament - hang from a hook near your door or patio.
Specifications:
Dimensions: L: 8in x W: 3.5in x H: 25in
Case Quantity: 20 Units Per Case
Weight: 2.70lb