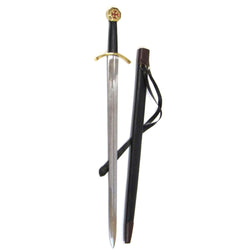 IOTC
Templar Sword
This stunning Templar Sword is a high quality, battle ready sword. This Templar Warrior Sword calls to mind their more military-based actions, by putting a recreated Templar sword into the hands of an enthusiast. As far as medieval appeal goes, this handsome sword does not fall short, featuring all the iconic features of a classic warriors sword, and then some.
The blade is made out of carbon steel and features a very solid tang.
The hilt is wrapped in genuine black leather and has a brass plated pummel with the red templar insignia and brass crossbar.
This blade is shipped dull but the carbon steel can be sharpened on your own.
Feels solid and heavy in the hands
Specifications:
Case Quantity: 12 Units Per Case
Measurements: 38"