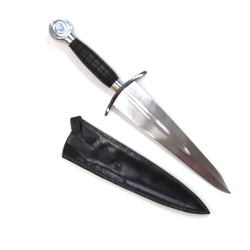 IOTC
Steel Dagger w/ Faux Leather Sheath
This beautiful Steel Dagger With Faux Leather Sheath showcases stunning craftsmanship and detail fit for a fierce warrior.
You are going to love every bit of this beautiful steel dagger as it looks even more beautiful in person!
Perfect for collection, costumes, cosplay, Halloween, fancy dress, theatrical props, and historical reenactments

It provides a rich look to the place, but it also serves as a highly demanded handicraft in art galleries.
Specifications:
Case Quantity: 20 Units Per Case


Weight: 1.15lb

Measurements: 16.5"