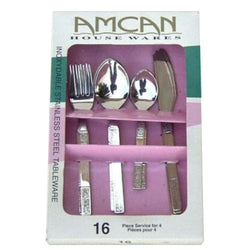 IOTC
Stainless Steel Utensil Set
This gorgeous Stainless Steel Utensil Set is an important investment that enhances the dining experience. Stepping into the modern world. A stainless steel,anti-rust Tableware Cutlery Set. Smooth edges that ensures the safety of your lips and it€™s suitable for eating with. Heavy duty feeling & shiny. The mirror polished surface always keep Your stainless steel silverware set.
High quality set that enhances your everyday meals into a fine dining experience.
Great gift for Housewarming, wedding, Christmas, Festival etc.
Package Included:
4pcs * Dinner Forks
4pcs * Dinner Knives with Serrated
4pcs * Dinner spoons
4pcs * Teaspoons
Specifications:
Case Quantity: 18 Sets (of 16) Per Case

Measurements: 10x8"