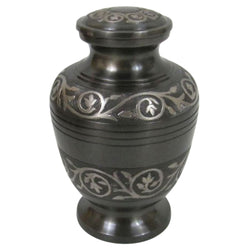 IOTC
Solid Brass Urn, Black
This solid brass urn is a decorative urn that is artisan cast and finely detailed. Use it as a rememberance or as a display piece.
When you've lost someone close you need a high quality urn to hold their ashes and act as a fitting tribute to the love you shared. This beautiful solid brass cremation urn is handcrafted to give your loved one's remains the superior quality they deserve.
If you're recently bereaved, you need a high quality cremation urn that has been made with love, so you can honor the memory of the dearly deceased.
10.5" tall elegant urn
Artisan cast from brass
Classy and sophisticated
Specifications:
Dimensions: L: 6.15in x H: 10.5in

Case Quantity: 6 Units Per Case