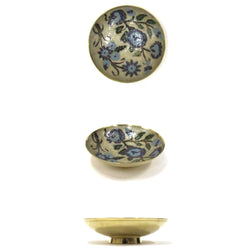 IOTC
Solid Brass Bowl, Enamel
  This wonderful Solid Brass enamel Bowl will add warmth and style to any gathering. This bowl makes a decorative statement in your home. This Brass bowl looks very nice and hence are common gifts in the marriage and many other ceremonies.
 A fabulous accent to any home, this dazzling bowl won't disappoint.
Solid brass dish or bowl with a floral design and enamel paint
Specifications:
Case Quantity: 40 Units Per Case

Measurements: 7.5"