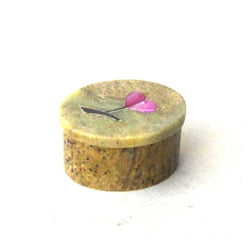 IOTC
Soapstone Box, Inlaid
This soapstone trinket box is decorated with a flower made of mother of pearl (shell) in its lid. Flower stalk of black wood. A beautiful, original container for fine jewelry.
Soapstone is a soft, pliable stone used for a variety of carving and decorating purposes. The history of working with soapstone dates back more than three millennia. Artisans began working with soapstone in Asia and spread the craft to Europe. In the Western Hemisphere, soapstone carving began with the Inuit tribes of Alaska and northern Canada.
Specifications:
Material: Soapstone
Case Quantity: 240 Units Per Case
Measurements: 2"