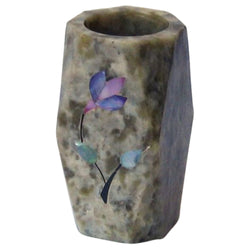 IOTC
Soap Stone Pen Holder
This stunning Soapstone Pen Holder features a solid design, a beautiful aesthetic and will neatly complement your decorative desk pieces with class and style. This is finished with the utmost care and attention to ensure its alluring shape and elegant design.
Functional pen holder
Sturdy soapstone design
Elegant and beautiful
Specifications:
Case Quantity: 48 Units Per Case

Measurements: 4"