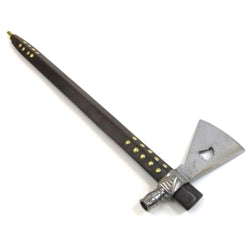 IOTC
SMOKING TOMAHAWK
This ceremonial peace pipe tomahawk is a replica of those used for centuries during tribal peace talks. It has a sharpened stainless steel ax head and the traditional tobacco bowl. The hardwood handle has studded accents.
Stainless steel ax head and tobacco bowl
Hardwood handle with studded accents
Intended for display purposes only
Specifications:
Dimensions: L: 14in x W: 5.5in x H: 1in
UPC: 092074120937
Case Quantity: 80 Units Per Case
Weight: 0.45lb
Measurements: 14x5.5"