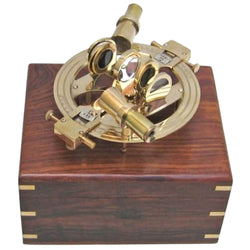 IOTC
Round Sextant Double Scope, 8"
This round sextant features a double scope for improved accuracy and functionality. It is a unique and functional addition to your set of nautical tools.
This beautiful polished brass sextant is a must have for any nautical enthusiast. This sextant is fully functional and includes a silver vernier scale, adjustable eye piece, glass mirror and viewing telescope.
Functioning round sextant
Double scope
Unique and functional
Specifications:
Measurements: 7.5"
Dimensions: L: 7.5in x H: 3.05in
Weight: 3.05lb
Case Quantity: 8 Units Per Case