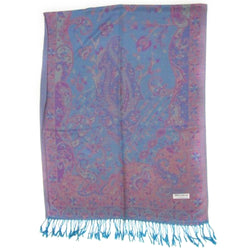 IOTC
PASHMINA SHAWL 35-2 Dolly Warden Design 55% Pashmina 45% silk
The look of this gorgeous pashmina shawl is quite elegant and dressy. Drape nicely and colors are vibrant. This has soft, breathable and silky feel.
Great as a stole, a cover-up, a headscarf or a hijab. You can use it in summer when you will be in AC and it heads off the cold in winter. You can use it as a stole to keep shoulders warm, a head wrap to block out the light and look stylish at the same time. Great for cool evenings, chilly mornings and air-conditioned places. Making them versatile for multiple weather conditions.
Features exotic tapestry paisley design and double layered fabric.
Dolly Warden design 55%
Pashmina 45% silk
Specifications:
Dimensions: L: 0.55in x W: 78in x H: 0.1in
Weight: 0.55lb
Case Quantity: 10 Units Per Case
Measurements: 27x78"