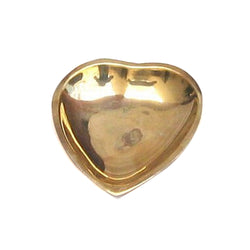 IOTC
Mini Heart Dish
 This beautiful Mini Heart Dish brings modern glamour to your home. With this sophisticated accent dish tray, you can place this chic tray on your entrance console table as a trinket tray to hold your keys or use it as a decorative accent. It would work a treat as a vanity organizer for your makeup too. A fabulous accent to any home, this dazzling tray won't disappoint.
The small size makes it cute and portable without taking up much space.

Works as a nightstand organizer tray holder for the key, small change, watch, glasses, phone, wallet, etc;

Works as a jewelry tray for rings, earrings, necklaces, bracelets, etc.

Or simply works as a vintage and eye-catching decor.
Specifications:
Case Quantity: 36 Units Per Case

Measurements: 2.25"