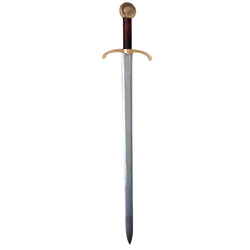 IOTC
Medieval War Sword
This stunning medieval war sword is a high quality, battle ready sword. The blade is made out of carbon steel and features a very solid tang. The hilt is wrapped in genuine leather and it has real brass pummel and crossbar. This blade is shipped dull but the carbon steel can be sharpened on your own.
Features a carbon steel blade
Genuine leather wrapped grip
Feels solid and heavy in the hands
Specifications:
Dimensions: L: 39in x W: 8.5in x H: 1in
Weight: 3.20lb
Case Quantity: 12 Units Per Case
Measurements: 38"