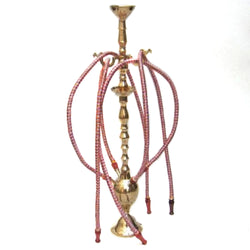 IOTC
Hookah, 4 Hose, Brass 24"
This is a Brass Hookah, 4-Hose, approx 24" tall, all brass PARTY Hookah is beautifully made to Enjoy and have Fun. To make it more enjoyable, the body is hand etched and engraved all around. Impress your friends with this original and cultural, hand-crafted piece. The four hoses are beautifully made in exuberant colors to enhance any decor at any time. This will be an excellent piece of art for your collection to impress your friends. This hookah will display years of evidence to an old age tradition.
With a solid brass base adding extra curve your smoking enjoyment will always be enhanced by this unique expression and design
This hookah was fashioned with care from top to bottom.
Specifications:
Case Quantity: 12 Units Per Case


Measurements: 24"