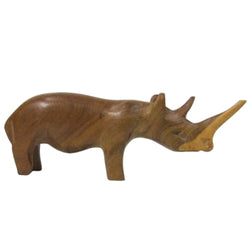 IOTC
Hand Carved Wooden Rhino Made in Africa
This beautiful hand carved rhino statuette was formed from solid wood by fine artisan woodworkers in Africa. Made from the finest materials with attention to providing intricate details in each piece.
It has a lovely finish and beautiful carvings

Wonderful home decorative item
Specifications:
Dimensions: L: 4.75in x W: 1in x H: 2in


Weight: 0.05lb

Case Quantity: 24 Units Per Case

Measurements: 5"