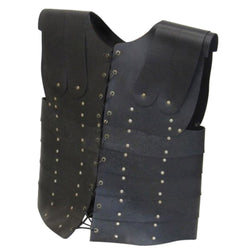 IOTC
Faux Leather Lorica Segmentata
This beautiful lorica segmentata is the perfect piece to complete your Roman armor ensemble. Hand crafted from 100% leather, this accessory boasts of metal tips and stays and is fully functional.
If you're looking for an easy way to maintain the pristine look and condition of your armor while sacrificing some historical accuracy, then this segmentata is for you!
This armor will fit up to a 46" chest

Highlighted by metal tips and stays

Great for LARP (live action role playing) cosplay, Halloween, fancy dress, theatrical props, and historical reenactments.
Specifications:
Weight: 5.20lb

Case Quantity: 6 Units Per Case