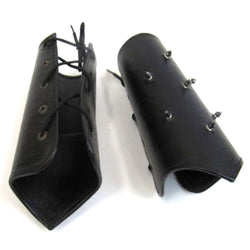 IOTC
Faux Leather Arm Guard (L-20618)
This Impressive Faux Leather arm guard is simple but guarantees solid arm protection. This pair goes back to the days of ancient warriors and is inspired by historically authentic design.
These arm guards are a nice compliment to any costume or role-playing apparel.
Made of leather
Fully wearable and adjustable
Ties make it adjustable so it can fit larger wrists and forearms.
Specifications:
Weight: 0.85lb
Case Quantity: Sample Only, 1 Set (of 2) Per Case
Measurements: 10"