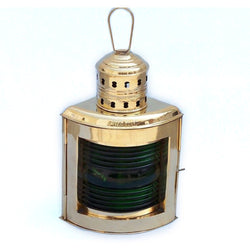 IOTC
Copper Ship Lamp Large, Green (Starboard) Glass with Oil Lamp
This copper and brass anchor lamp is a completely functional oil lamp in classic antique style.This is a beautiful reproduction of anchor lantern made of brass in shiny brass look. Oil burner is in great working condition and produce clear light through.These oil burning lanterns were made to be lit and hoisted to the top of the mast with one rope tied to the handle and 2 ropes through the brass guides to keep it from swaying as the ship rolled with the sea.
You are going to love every bit of this beautiful copper and brass anchor lamp as it looks even more beautiful in person!
Artisan crafted from copper and brass

Features intricate anchor design

Fully functional oil lamp

With green lenses
Specifications:
Dimensions: L: 7in x W: 9.25in x H: 16.5in


Weight: 7lb

Case Quantity: 6 Units Per Case

Measurements: 17"