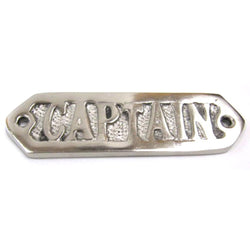 IOTC
Chrome Plated Sign "CAPTAIN"
Put your name on your chair, table or anything else in the room with this chrome-plated sign reading "CAPTAIN"!

This beautiful chrome plated sign is sure to be a real eye-catcher and would make a great gift for the nautical enthusiast. It would also be perfect for your next hiking or camping trip.
Specifications:
Measurements: 5.5x1.5"
Dimensions: L: 5.5in x W: 0.25in x H: 1.5in
Bright chrome plating
Weight: 0.20lb
Case Quantity: 120 Units Per Case