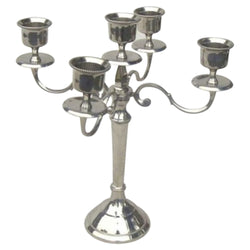 IOTC
Candle Holder 5 Prong
This 5 prong candle holder features a beautiful and simple design, emphasizing functionality. It will make a handsome and streamlined piece of decor. It is an excellent ornament for birthdays, celebration ceremonies, parties, and candlelight dinner.
Great for adding a decorative touch to any room's decor.
The unique yet beautiful candle holder is great for the remembrance of the special occasion. It's perfect if you are looking for a decorative accent. Use it in a dinner table or your work table or just put it on a shelf, this candleholder adds an exclusive touch to your home decoration.
Elegant, simple lines
Solid artisan-crafted design
Functional candle holder
Specifications:
Dimensions: H: 16in
Case Quantity: 6 Units Per Case