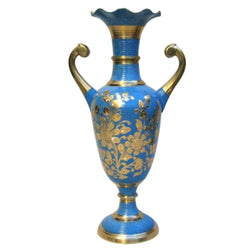 IOTC
Brass Vase 18.5"
This beautiful Brass Vase attracts attention and add a sophisticated touch to any interior. This vase stands nearly 2 feet tall and is an excellent free-standing floor piece to store umbrellas, display floral arrangements or simply serve as a central accent display art piece. Ideal vase for home decor or as a gift. This eye-catching vase will look beautifully as a stand-alone decor, as well as part of a flower arrangement. It will serve as an original present for many occasions.
Crafted from solid brass
Sleek and attractive design
Specifications:
Case Quantity: 20 Units Per Case


Measurements: 18.5"