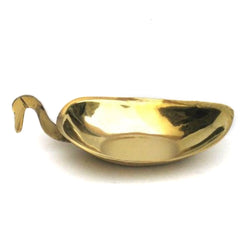 IOTC
Brass Swan Dish
 This stunning Brass Swan Dish brings modern glamour to your home. With this sophisticated accent dish, you can place this chic tray on your entrance console table as a trinket tray to hold your keys or use it as a decorative accent. It would work a treat as a vanity organizer for your makeup and jewelry too. 
 A fabulous accent to any home, this dazzling Swan Dish won't disappoint.
Add a shiny, classic touch to your space with this brass swan. You could use it as a candy dish, simple decorative piece or anything else you could dream up!
Specifications:
Case Quantity: 240 Units Per Case

Measurements: 4.75"