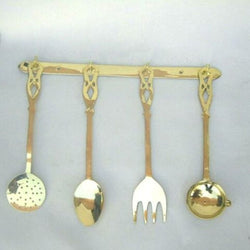 IOTC
Brass Kitchen Set, 12"
Lovely brass kitchen set, these kitchen utensils add a stylish twinkle to your decor – so elegant they can be used for cooking or serving utensils. This stylish and beautifully handcrafted utensils that you won't want to hide in a drawer.  This is a decorative kitchen set, traditional design with excellent finishing. Completely made in brass; giving it an authentic and antique look.
Go ahead and save drawer space by either hanging them on a utensil holder, wall or place these brass cooking utensils in a utensil canister. Lovely old set comprising a fork, a ladle a spoon and a sift. Nice solid set with a hanging rack.
Hand crafted from solid brass

Adds a stylish twinkle to your decor

Can be used for cooking or serving utensils

Stylish and beautifully handcrafted utensils
Specifications:
Measurements: 12" Length
Case Quantity: 50 Sets (of 5) Per Case