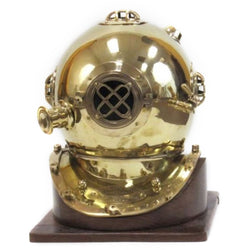 IOTC
Brass Diver Helmet With Wooden Base Mark V Mod-1 18" (IE78695)
The Brass Diver Helmet With Wooden Base Mark V Mod-1 are made from the finest materials with an attention to providing intricate details in each piece. This diver helmet is fully wearable and comfortable. It provides exactly what you need to complete that perfect look. Great for LARP (live action role playing), kids, cosplay, Halloween, fancy dress, theatrical props, and historical reenactments.
Made of good quality Brass
In Shiny polished Style, All Work is Hand Made
A beautiful brass gift for collectors.
Specifications:
Measurements: 19" H
Case Quantity: One Unit Per Case