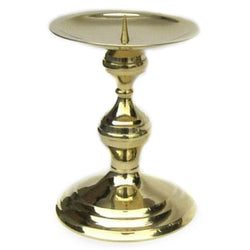 IOTC
Brass Candle Holder, Oxford
This is a simple oxford brass candle holder which can serve to illuminate your room or stand as a lovely display piece.
Classic shape, undulating and beautiful.
It's perfect if you are looking for decorative accent for home decoration. Use it in dinner table or your work table or just put it in a shelf, this candle holder adds exclusive touch to your decoration.
Handcrafted from sturdy
Made from solid brass
Beautiful and simple design
Specifications:
Measurements: Height: 6in
Case Quantity: 60 Units Per Case