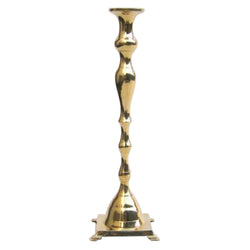 IOTC
Brass Candle Holder, 14"
This simple brass candle holder stands over 14" tall and will perfectly accent any design scheme. A perfect complement to light any room in the deepest night. The unique
yet beautiful candle holder is great for the remembrance of the special occasion. It's perfect if you are looking for a decorative accent for home decoration.
Cast from Solid brass design
Handcrafted in simple, solid lines
Stands over 14" tall
Solid and stable base
Specifications:
Measurements: Height: 14in
Case Quantity: 17 Units Per Case