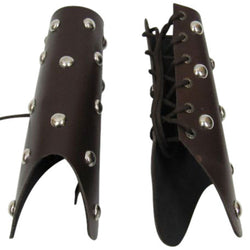 IOTC
Braces-Hand Guard Set
This beautiful Arm Guard Set is handcrafted from real brown leather. These pieces are highlighted by iron studs and adjustable laces in the back.
There's no better way to complete your armor ensemble without this Leather Arm Guard Set.
Based on historically authentic design

Great for LARP (live action role playing), kids, cosplay, Halloween, fancy dress, theatrical props, and historical reenactments.

Made from the finest materials with an attention to providing intricate details in each piece

Armor is Fully Wearable and Comfortably made

Provides exactly what you need to complete that perfect look
Specifications:
Dimensions: L: 10.5in x W: 0.1in x H: 10.5in
Weight: 0.65lb
Case Quantity: 72 Sets (of 2) Per Case
Measurements: 11"