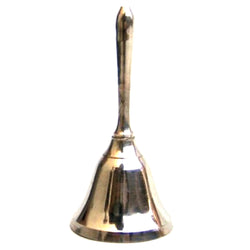 IOTC
Bell, Chrome Plated
Features:
Vintage style design, All brass craft handbell, chrome plated.

Measures 3 1/2" Tall & 1 1/2" Diameter.

Delicate Design: Our handbells were made with excellent craftsmanship, hefty and elegant, plated with silvery color, shining and dashing.

Made of high-quality brass, chrome-plated, sturdy and durable.


Wide Applications: Perfect as an alarm bell, notification bell, service bell, game bell, pet training bell, Christmas bell, etc. Ideal for bedridden or handicapped family members.

Delivers a loud clear alarm for those who are bedridden and may need assistance, feel safe and assured in an emergency without the necessity of yelling.

Item Specifications:
Brass bell in silver chrome finish.
Excellent sound and a functional item.
Dimensions: L: 1.63in x W: 1.63in x H: 3.5in
Case Quantity: 240 Units Per Case
Weight: 0.10lb