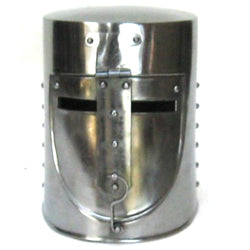 IOTC
Armor Helmet (19991)
Armor helmet offers a predated and historic look. This helmet is finished with the utmost care and attention to ensure its alluring shape and elegant design. This has a shiny finish and known for having accurate design that enhances the appearance of your antique showcase. It dates to the period of transition from lighter armor to shot proof.
This Armor Helmet not only provides a rich look to the place, but it also serves as a highly demanded handicraft in art galleries, museums and exhibitions.
Made out of 18 gauge mild steel and hand finished
Historically accurate and authentic design
Great for LARP (live action role playing), kids, cosplay, Halloween, fancy dress, theatrical props, and historical reenactments.
Specifications:
Dimensions: L: 7.25in x W: 9in x H: 10.5in
Weight: 4.75lb
Case Quantity: 6 Units Per Case

Measurements: 12.5"