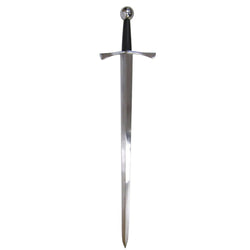 IOTC
Archer Sword
This Medieval Archer sword is a classic sword design of the medieval ages. This sword was a great sidearm for archers in case the enemy got close enough for hand to hand combat. This sword features a genuine leather wrap grip, full tang, and a solid steel cross hard and pommel. The solidly constructed hand-forged blade is made out of carbon steel and ships blunt, but the nature of the steel allows it to be sharpened.
Each sword is uniquely hand-made so you're truly getting a one of a kind collector's piece.
Scabbard is not included.
Blade is made out of carbon steel and has a full tang construction
Genuine leather wrap grip
Specifications:
Dimensions: L: 40in x W: 7in x H: 2.5in
Case Quantity: 12 Units Per Case
Weight: 3.35lb
Measurements: 37"