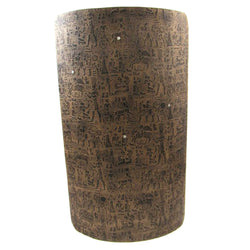 IOTC
Ancient Roman Shield-Wooden
The use of shields in battle originates in pre-history and is present in the earliest known human civilizations. A logical evolution in armed combat, shields were used to block attacks from hand-held weapons like swords as well as projectile weapons such as arrows. Early shields were typically constructed of wood.
This piece showcases stunning craftsmanship

This Shield is a must have for anyone inspired by the battles of the ancient arena

Great for LARP (live action role playing) cosplay, Halloween, fancy dress, theatrical props, and historical reenactments.
Specifications:
Case Quantity: Sample Only


Measurements: 36x21"